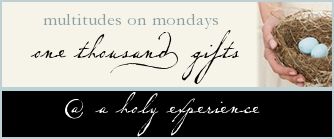 25. For sweet heartfelt eye opening talks with my best friend {otherwise known as Mom}
26. For God gifting others with eloquent writing abilities that encourage me day after day
27. For a quiet morning filled with warm coffee and God's word
28. Making connections and growing relationships
29. A little girl who wants to be a princess all all all all day, and for the gift that one day she'll know she is a princess of the Lord most High.
30. A tenderhearted boy that stands up for the one "crossed off" the friends list.
31. A little baby girl, the gift of God's light, so connected to me.
32. opportunities to be fed spiritual food.
33. Being open to change
34. For freedom from sin and my old self
35. a young girl who forces me to look into the mirror and see me.
36. a soft sunrise and gentle waking